MotM Reunion | Meet Yoro: One Year Later

2 October 2018

MotM Reunion
Meet Yoro: One Year Later

Sometimes it just clicks.

When you don't even have to make a joke to get a grin. It's just the mic drop in your what up. Just that tone of voice and a person gets you, trusts you, knows you––you all are cool. So maybe you're still actually strangers, but it sure doesn't feel that way. For me, that person was Yoro.

"Yoro B–– !" I announce whenever I see him now and he almost doubles over laughing.

"My mom calls me that," he says, when she, who still lives in The Gambia, used to holler out for him.

Yoro B––, his first and last names together, the full name that matches his tall personality, his abundant response to humor, his uninhibited expression of his thoughts, and his demand that they be acknowledged with equal weight.

It is my job as a humanitarian storyteller to approach each person with the same dignity and interest, so it is a surprise to see who over time I end up connecting with as a person. It's that basic fact of life, there are just some people you get along with easier than others.

So communication with Yoro is seamless. I don't exactly ask Yoro for an update about life when we meet, so much as those details come tumbling forth from him in a laundry list with barely a prompt. He seems pleased, and eager, to have someone finally hear him out entirely, on everything from his sporadic health issues to housing concerns, work contracts, and asylum expectations, and I am very eager to listen.

I rushed to greet him at the front of Napoli Centrale railway station in November 2017 once I picked him out of the crowd. It was our first meeting since he left Lampedusa six months before, but Yoro is so big and tall that a hug hello is like trying to squeeze the Empire State Building.

He told me he started smoking to lose weight when he was still living in The Gambia. He was nearly 120 kilos, "fat," he said, a designation West Africans aren't stigmatized to say like Americans and Europeans. His smoking is a habit he continues now where he lives, in a small town near Naples, Italy. He rolls his own cigarettes with the loose tobacco so many Italians use too to save cash on expensive pre-rolled packs.


To get to Naples from Lampedusa though, it was a slow slog. First, a boat from the island to Agrigento, Sicily, where he lived for one month and three weeks, sleeping on a bunk bed in a banquet hall. Around 200 other people were under that roof with him, including Ousman (20, Gambia), who escaped Libya on the same rubber dinghy as Yoro in April 2017.

Then, on 31 May 2017, he arrived by bus in central Naples at 9:00pm. He and four other people were selected from the group, then taken to a town on the city's outskirts. Ousman, in a continued stroke of luck, was chosen with him so they remained together. They arrived at 10:00pm the same night, but it being late there wasn't much yet to see. Reality would strike in the morning.

"There are just old grannies walking around town," Yoro said about the village last November. There's not much else to see and no where to go aside from the cafe. He stayed in the village living in a four-story building with 48 total people, all migrants like him, in veritable exile. His housing management was supposed to distribute the 75 euros due to him each month––as required by law––although it didn't always come, or it came late. When he got money, he used it to buy clothes at second-hand markets, bus tickets to the city, and food.

Food, the recurring issue for almost any migrant living in state housing. It tasted so bad he didn't like to eat it. Breakfast was a packaged pastry and a few other accompaniments, like a piece of fruit, with coffee––fine enough, but day after day on repeat, he lost his appetite. The pastry he got the day I saw him was flattened from the weight in his bag, but he kept it in case he got desperate.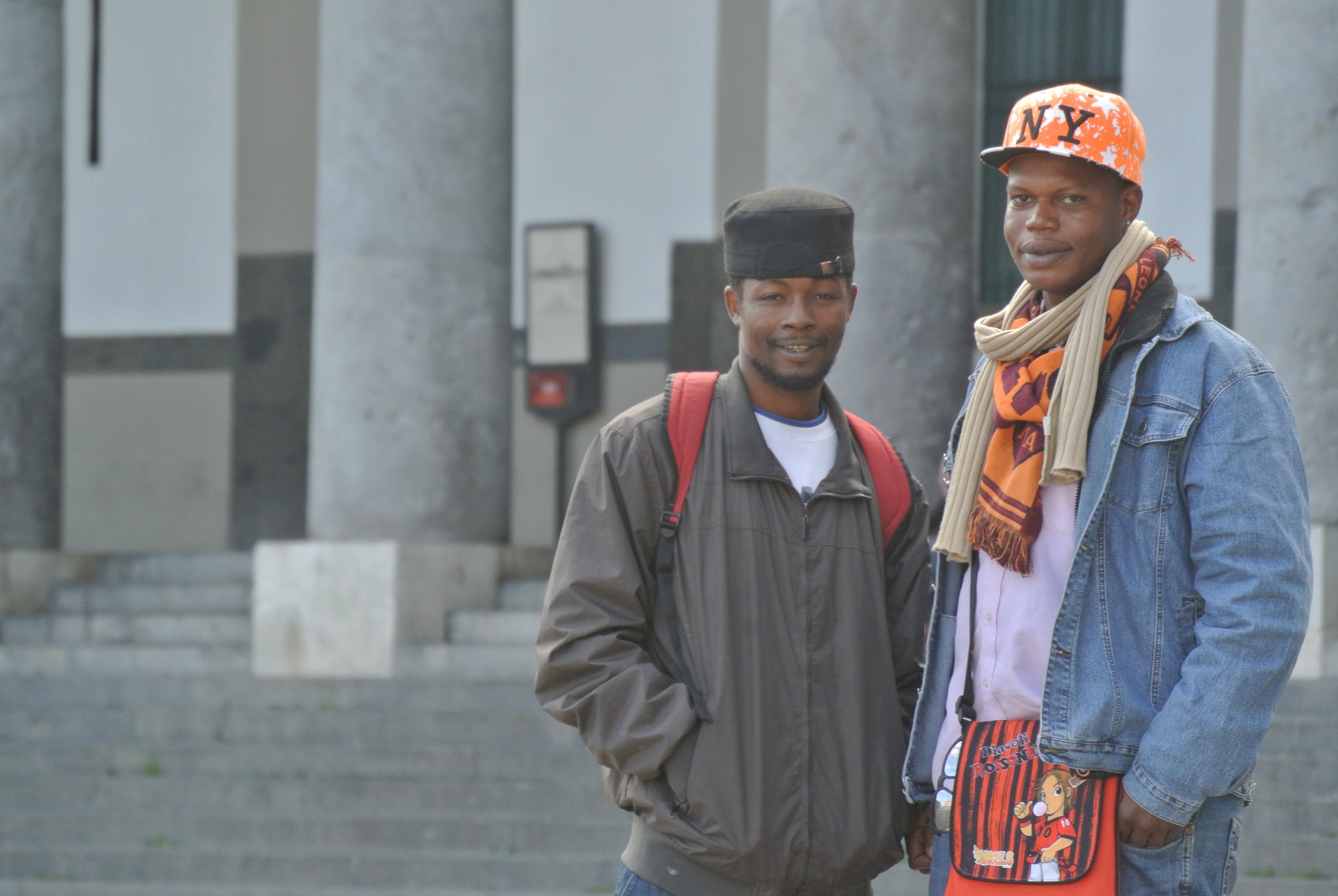 We were eating pizzas and grilled vegetables in a late lunch on a square in central Naples with Ousman, a fleeting mealtime respite for them that was my treat.

Yoro was wound up telling me what it was like to live so far away from the city with no distractions, activities or destinations. His voice was rising and it didn't match the temperament of the tables around us. He wanted to work. He wanted to be seen and to be engaged, but nothing in the system was allowing that. He was angry.

The lunch ended on a minor note. Sometimes I play the role of a cheerleader when guys get low; other times it feels inappropriate to do anything other than just listen and document it. I can't change it.

"It's just me. I'm not the police, I'm not the government," I have say to people a lot when they look to me for answers. I tell them, as well as many others, as a constant reminder, that I write the story of their experiences so other people can learn about them. If people read them, the goal is they'll be moved to help make change.

This proves too far, too abstract to lift the fog around us. So we sit together at the table and I feel what I can with them in fragments of silence.

But only for a beat. Yoro, Ousman and I have an obvious, albeit tacit understanding that we are not supposed to know each other at all, yet we do. And for us, this is above all else awesome. Before we rose from the table Yoro and Ousman gave me a metallic beaded bracelet, a gift, they said, for my friendship.


The next month, in December 2017, Yoro wrote me that the home where he lived was so over-crowded that he was sleeping on a single bed in the open hallway. He argued and protested with management, his phone going dark in the meantime (SIM cards always run out when the money does) until finally the police agreed to transfer him to an alternative home. This had happened again for a second time even, before we reunited for our second meeting in May 2018.

Now, he is living in private quarters on a farm where he found work. He harvests vegetables, and bales hay as an assistant to the farmer driving the tractor (video below).

After we picked each other out of the crowd again last May at Centrale, all of that energy to tell me what he had been up to came tumbling forth again. We sat for an hour at a cafe table while he toggled between reprimanding Ousman on the phone about missing the bus and telling me stories.

He brought a folder of documents––his identity card and health card, medical documentation from his doctors, scripts, photocopies, reports from police headquarters, the date announcement of his asylum hearing, his beginner certification of the Italian language––the full spectrum of his life so far in Italy, all of it he wanted me to see.

There was nothing for me to add or detract from this parade of paperwork. It was just about watching him display his accomplishments, which is to say, the proof that his new life here existed.

Ousman never made it. That bus from the village comes just twice a day, and it's a seven-kilometer walk to the local train station if you do, and still another half hour to Napoli Centrale after that.

Bakary David did, however, make it in from his housing camp, which is also beyond the city center. He laughed when he saw Yoro: he didn't recognize him. It was their first time seeing each other since May 2017, a year ago, when they left Lampedusa.

On the island, they used to keep themselves occupied jogging up and down guitgia beach in the days after rescue. Yoro had gained so much weight—a number of kilos over the 80 kilos that made up his six-foot-four frame when he escaped Libya last year––that Bakary David thought he was someone else.


We strolled around the center together and talked. Yoro had his asylum hearing date set, but Bakary David did not. There were Nigerians at Yoro's original housing who had waited over two years without being called.

"Many think Europe is paradise," he said about his friends and family in The Gambia, but he does not hide the truth. He takes pictures of the scant five-euros he keeps in his wallet to buy food. He keeps no secrets, he says, because they all want him to send money. So he shows them again and again, there is none to send.

It's a different kind of documentation process. I see the stream of certificates and ID cards he displays with relish. But those things, it would imply to an unknowing audience, are signs of automatic abundance and fortune. And still, the effect is the same. An exhibition as proof of existence.

There are others who, even at this distance, demur to their mothers and sisters asking for financial support. Lots of migrants have requests to send money home; many comply. "Yoro B–– ," though, I imagine his mom calling out on the phone, he stands up to speak the reality he faces fully. I can't imagine him doing anything less.

Yoro is an amazing human being.